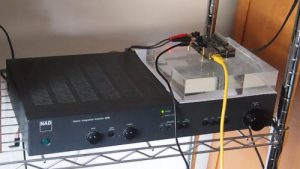 So I've had this Raspberry pi habit for a number of years now. For those of you who don't know, a raspberry pi is a very useful little computer that can be used for projects and learning. At the time of writing (oct 2022) they have sold over 40 million pi and have been in production for about 10 years.
They have over time updated the computer – at first it was single core, now evolved to a quad core, improved ethernet and usb specifications. I don't yet have a raspberry pi 4 (the most recent version) but people say it can just about do as a replacement desktop / laptop computer.
In short it's a heck of a lot of computing power for very little outlay (although at the time of writing they are in short supply and the price has gone up a bit). A couple have even been sent up into space and reside at the iss.
People do all sorts of things with their pi  and the web site that you're probably reading this from has been hosted from a Raspberry pi for over  4 years. It's incredibly low cost hosting (it works for the machine less than $10 per year) I use Debian as the operating system and it runs a full LAMP stack. It has never locked up due to load (although admittedly I don't get a monolithic amount of traffic) but it serves well and protects things and currently has over 1400 items in it's firewall and hums along just fine.
I've wanted a media player for a while now and considering I have a spare pi I created this!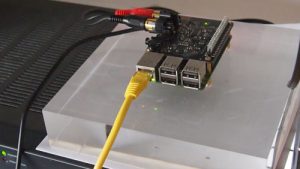 It's a Raspberry pi with a DAC hat (Digital Audio Converter) mounted on a hunk of perspex that was given to me about 10 years ago. The default sound output from the PI is not great (although functional) so I spent about $40 to purchase the iqaudio DAC and the difference in quality of sound is amazing especially at low volume (which is great because I live in a unit and I hate people that sodcast).
Mounting was a bit of a debacle – I wanted brass feet (who doesn't like a bit of brass bling) and  in the end just used super glue to hold the device on to the perspex (thanks to this product being open source I could get a template that made placement and positioning fairly straight forward).
The next step is what to do with regards software. The problem is there is so much to try! I'm using cli based access, vnc access, stand alone apps and also looked at total media centre based installs – because the PI runs form cheap micro SD cards it's not that difficult to build a complete re image of the machine and move data about.
In short, if you want an affordable way to learn about computers and build your own stuff you can't go wrong with a Raspberry Pi!
(authors note, I know cable management needs work!)
Related links
Raspberry pi website444
https://www.raspberrypi.org/
DAC hat from little bird
https://littlebirdelectronics.com.au/products/raspberry-pi-iqaudio-dac
Pi's in space!
https://www.bbc.com/news/uk-england-cambridgeshire-59747590