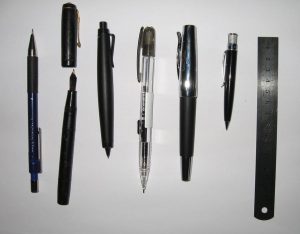 I keep lots of note books, technical one's and personal. Unfortunately like most people I'm not blessed with a photographic memory, but I can get rather methodical, and that's useful.
Technical writing – this blogging thing is valuable. But I also like to write things in long hand and in pencil in note books! I know it sounds crazy, because these days we can google many if not most problems. But writing my own cheat sheets, (spells, as I call them ) can help a lot to jog the memory. Often it can be just as quick if not quicker than trying to find that page in google you forgot to book mark 3 years ago!
Not to mention that there is some evidence that a hand written approach to the problem solving process can have a number of positive side effects.
When I'm working on something technical my journal is close buy but I'll also have the index open that I maintain in a spread sheet.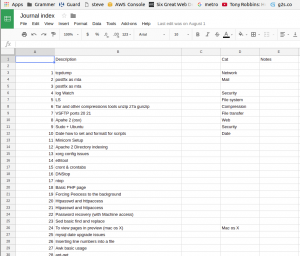 The reason is that it's a lot quicker to find things via the spread sheet. But I also have a hand written index that is good for if i'm off line or taking things slowly. We live in very fast times but it's good on occasion to slow down a little, think and reap the benefits.